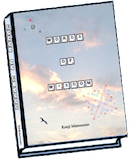 Buy a physical version! ($14.99 + shipping)
Createspace (preferred) or Amazon
(Note: For International players in Europe, Asia, etc. please visit this page.)
Scrabble has a reputation: a casual game with friends and family, and a game of word-finding, vocabulary, and social interaction. And while these are important elements of Scrabble, there is so much more. Scrabble is a strategic game, requiring clever play-finding and advanced tactics.
Words of Wisdom is the first Scrabble book that analyzes advanced play for tournament Scrabble players. It explains a myriad of sophisticated techniques and strategies, in a way that anyone can understand. Whether you want to be a top player or you just want to understand Scrabble's complexities, this is the book for you!
This book reveals Scrabble secrets hidden from the playing public, until now. This is Scrabble analyzed in a way that you have never dreamed. This is Scrabble at the highest level. This is Words of Wisdom.
Preview:
For those of you who want a taste, I have provided a Table of Contents, as well as the first page of each chapter as well as a free chapter for your viewing pleasure. You can also read the first ~20 pages for free at Amazon. Enjoy!
Testimonials:
"Kenji has helped me become one of the top players in the country, using many of the techniques found in this book"
— Noah Walton, top 10 player in the US
"This book… reveals many of the techniques used by top players to a widescale audience"
— Dave Wiegand, 2 time National Scrabble Champion
"What I personally love (about Words of Wisdom) is that it's not just "this is how you play SCRABBLE®", but rather, "this is how you approach each game, and think about each individual position."
–– Conrad Bassett-Bouchard, 2014 National Scrabble Champion
Other books:
Breaking the Game is our flagship book, and is a prequel to Words of Wisdom. Whether you're a Scrabble novice or you've been playing for decades, Breaking the Game introduces players of all levels to the fundamentals of Scrabble.
Beyond Words is my book on the popular app Words with Friends. It is the most comprehensive book on Words with Friends ever written.