Post 1:
You're in a close game with one of the best players in the world. Your rack is BEEMOTY. You're down 281-291, and your opponent has just taken 2 minutes and then played WO 14b for 10 points. Your last play was HAO, and before that, they exchanged 6. The pool is AAABCDDEEEEFFJLLLNNOORRRUUVXY.  What is your play? I've attached a GCG: Feel free to use Quackle if you want, but again, please do not use Championship Player.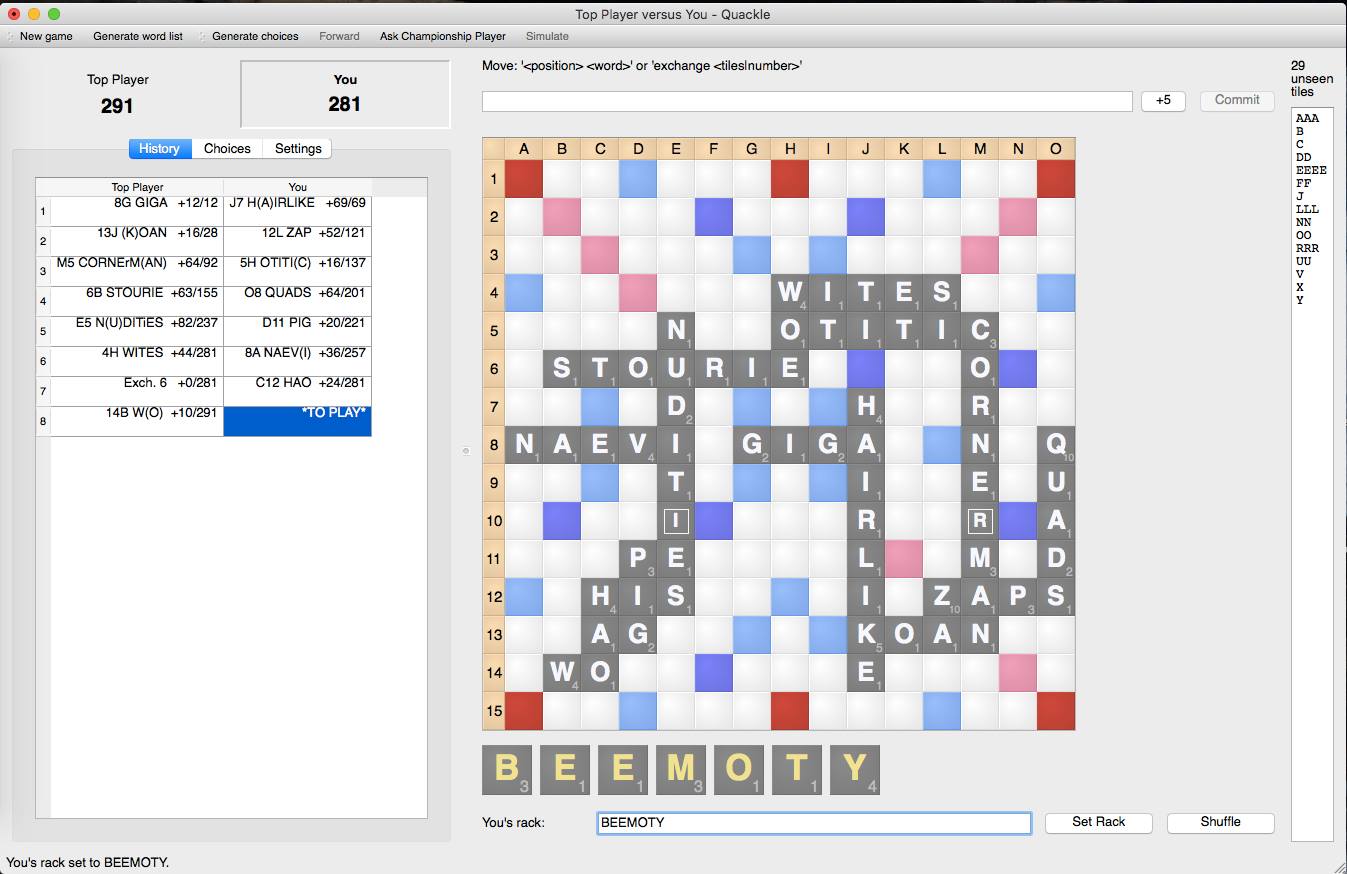 Post 2:
First, if you have not done so, please look at part 1 of this series below (as that is extremely relevant to this position) and make your play selection! Again, while the lessons in these diagrams are geared towards experts, the themes and strategy can also be understood by lower rated players.After YEP has been played, you seem to be in good shape. You're now up and you've got the T for TWO, and you're sweating a bingo from the I. Your opponent doesn't bingo. Then, in another plot twist, your top player decides to make another baffling move, blocking the I, and making another T setup!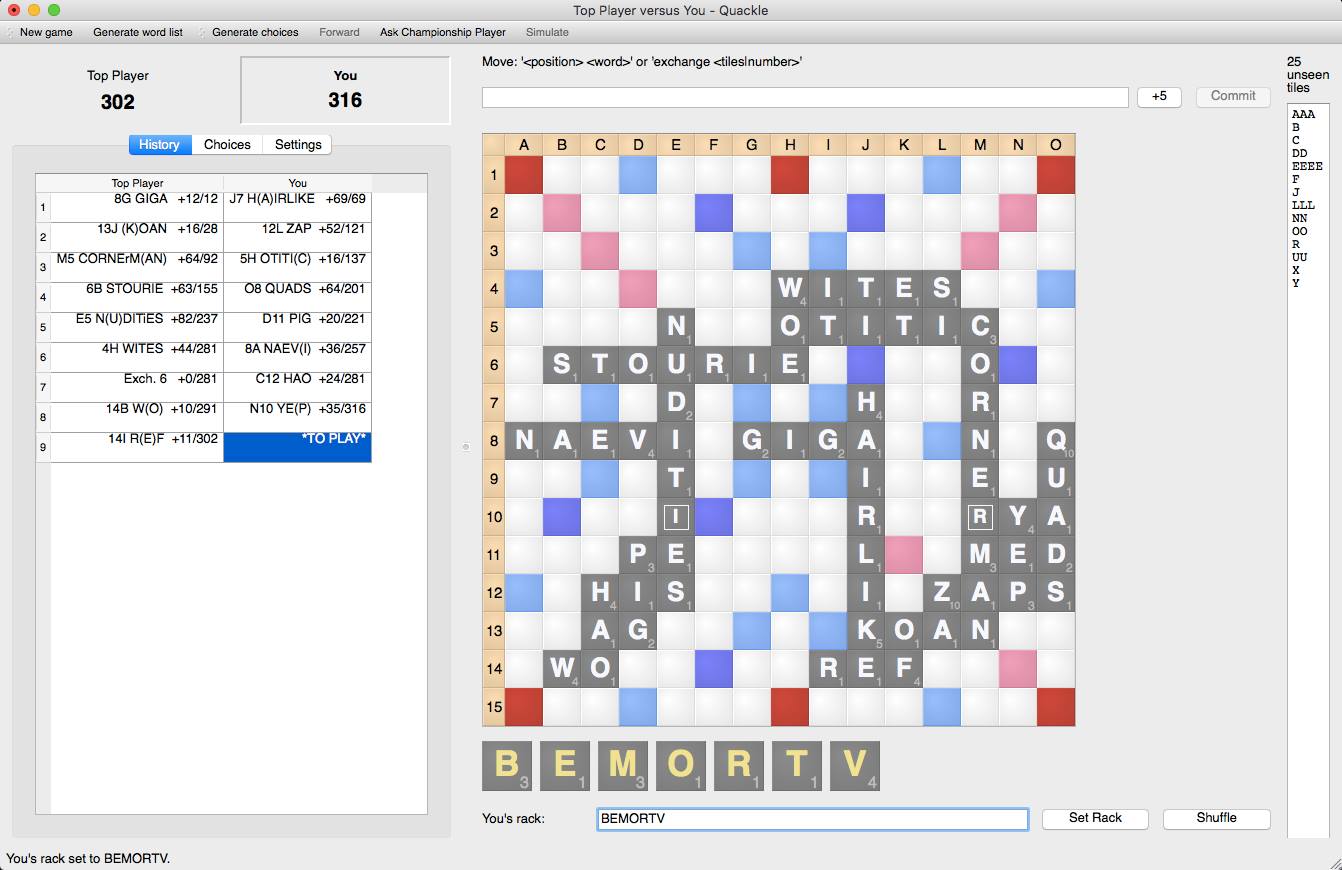 Score: 316-302
Pool: AAABCDDEEEEFJLLLNNOORUUXY
Last plays: [Opponent exchanged 6, you played HAO, opponent played WO, you played YEP, opponent played REF 14i (11)]
What's your play? In this position, please also indicate which spot, as many of the candidate options has multiple placements at this point. Again, please don't consult Championship Player. Results will come on a future post (after Post 3). Thanks!
Position 3: What do you play?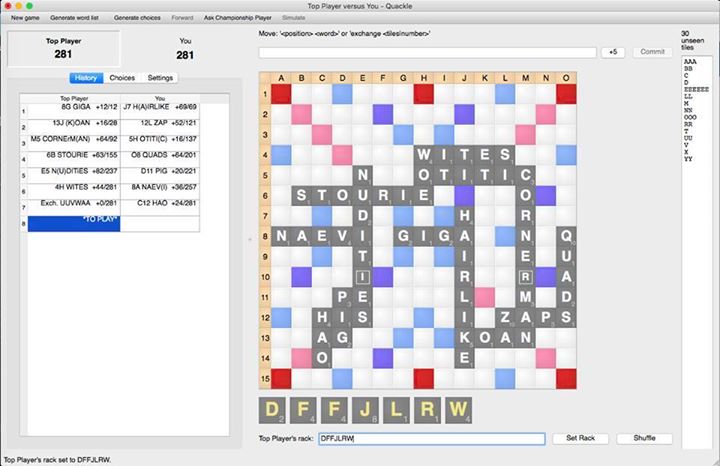 Rack: DFFJLRW
Score: 281-281 Last play was HAO.
Pool: AAABBCDEEEEEELLMNNOOORRTUUVXYY
Assume your opponent is rated somewhere between 6-600 in the world.Please state your reasoning 🙂 There are actually numerous options available here, but I think we're about to uncover something fairly interesting here…
Kenji