2014 marked the end of Nigel Richards' reign. Despite his strong history, Nigel started 3-4, and shockingly never proved to be a major factor. This opened up the door for some new blood to take the tournament.
Nationals proved to be quite a struggle, as several players struggled for the lead, including Jesse Day, Joel Sherman, and Noah Walton. In the end, Jason Li won 8 games in a row and took on Conrad Bassett-Bouchard, who despite never finishing top 5 before was an overwhelming favorite for the championship. In the end, the underdog did not prevail, and Conrad captured his first Nationals.
Top 5:
1. Conrad Bassett-Bouchard
2. Jim Kramer
3. Joel Sherman
4. Jason Li
5. Will Anderson
Full results: 2014 Nationals


2013 started out a three-horse runaway, as the three favorites (Nigel Richards, Kenji Matsumoto, and Dave Wiegand) started out in first, second, and third, at a combined record of 51-12 after day 3. But Dave has a disastrous day 4 (going 1-6) and Kenji lost his final 5 games (in his final tournament), allowing Nigel Richards to take the tournament. Komol won his last 10 games to finish 2nd, and Will won 18 of his last 20 to take 3rd.
Top 5:
1. Nigel Richards
2. Komol Panyasophonlert
3. Will Anderson
4. Noah Walton
5. Kenji Matsumoto
Full results: 2013 Nationals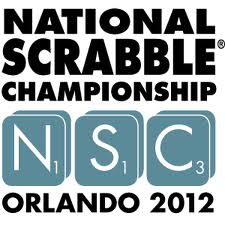 2012 was the first opportunity to see David Gibson play a Nationals in quite some time. 2012 started poorly for the defending champion, as Nigel started 7-5. David Gibson roared through the field, starting 19-5, but stumbled. In the end, it came down to Nigel vs. Gibson for the championship, with Gibson holding a significant tiebreaker: Nigel needed to win the last game by 170 to take the championship, a seemingly insurmountable task. Incredibly, the final score: 475-298 for Nigel, who took another NSC in dramatic fashion.
Top 5:
1. Nigel Richards
2. David Gibson
3. Jesse Day
4. Kenji Matsumoto
5. Dave Wiegand
Full results: 2012 Nationals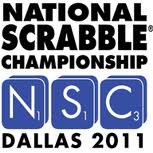 2011 was an extremely dramatic finish, as 6 different players jockeyed for the top 6 spots for the last 2 days of the tournament. In round 30, it looked like Jesse Day and Kenji Matsumoto were shoe-ins for the final as long as they didn't lose their respective games by over 100 points, but both did. In the end, Nigel Richards added another trophy, and yet another NSC victory.
Top 5:
1. Nigel Richards
2. Kenji Matsumoto
3. Brian Bowman
4. Jim Kramer
5. Jesse Day
Full results: 2011 Nationals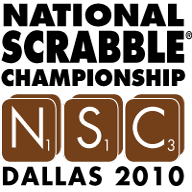 2010 was known as the Nigel Richards show, as Nigel clinched the title at the end of day 4, finishing 4 games ahead of the field. Brian continued his strong consistent placings finishing second.
Top 5:
1. Nigel Richards
2. Brian Cappelletto
3. Laurie Cohen
4. Orry Swift
5. Dave Wiegand
Full results: 2010 Nationals